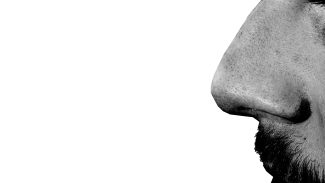 Four electronically
controlled pistons
& powerful braking without
breaking your nose!
Controlled and safe
stopping with the Bosch eBike ABS
and MAGURA ABS components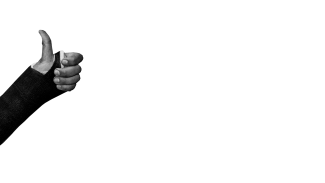 If you ride an eBike, you should also
brake like an eBike – electronically controlled!
More safety
An electric drive enables higher speeds, more distance and the transport of larger loads, all resulting in new requirements for braking. Most importantly, however, the extra power means that we have to rethink braking techniques in the event of an emergency stop. A study concluded that the Bosch eBike ABS could have prevented 29% of pedelec accidents.
More control
The brake components of eBikes already match the braking quality of small motorcycles. Raw power is great – but the main thing on the trail is being able to use that power in a controlled way. Whether riding in mud or over wet roots or stones – you'll always brake like a pro with the Bosch eBike ABS. The only gravel you'll have to watch out for is your prize money!
Why the Bosch eBike ABS &
MAGURA ABS components are so effective.
Perfect interaction
of all components.
Image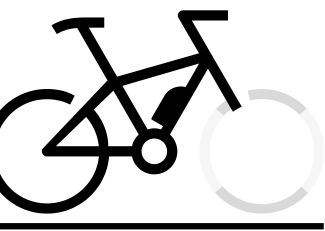 Anti-lock braking system on the front wheel
When the lever blades are fully applied, the MAGURA ABS components are electronically controlled by the Bosch eBike ABS, reducing the brake pressure on the front wheel and preventing it from locking. As with a car, the pedelec then brakes at intervals until the bike comes to a stop. Steerability is maintained while you sit safely and securely in the saddle.
Image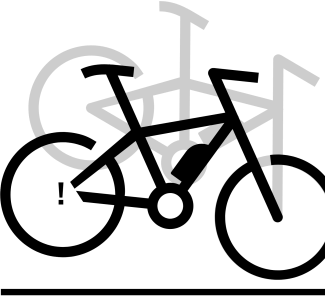 Lift control for the rear wheel
The intelligent rear wheel lift control reduces the possible lifting of the rear wheel in the event of extremely harsh front wheel overbraking. This prevents hazardous handlebar drops and rollovers, especially on slippery surfaces or downhill gradients.
You need the best team –
for the best results.
Proper braking is not an art but a question of technology, and to develop this, we opted for an intensive partnership with Bosch. The combined knowledge from the innovative Bosch eBike systems & ABS and MAGURA's many years of experience with motorcycle ABS systems guarantees the perfect interaction of all the ABS components. In this second ABS generation, we have extended the use of the Bosch eBike ABS system to cover city, trekking and MTB bikes equally.
The Bosch eBike ABS
and MAGURA MT C ABS components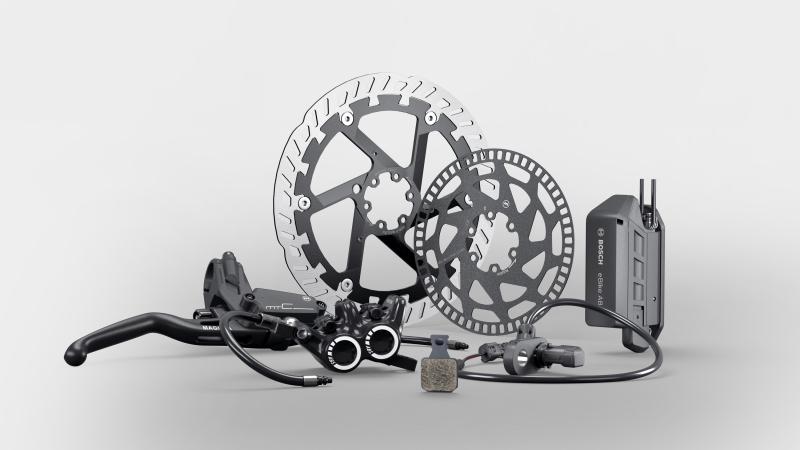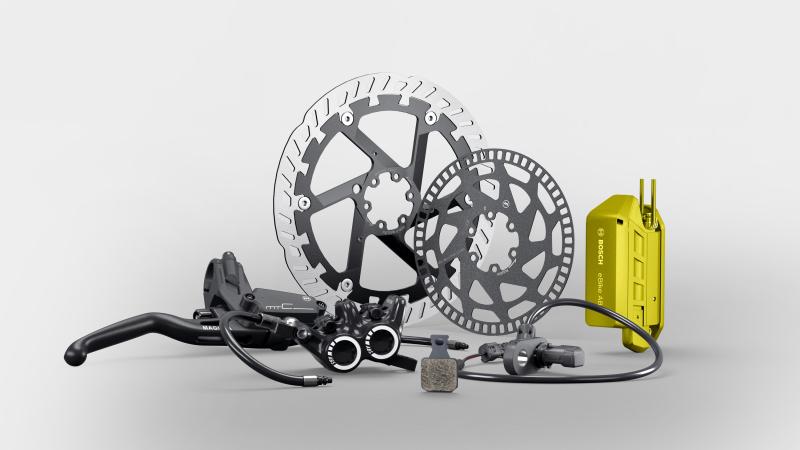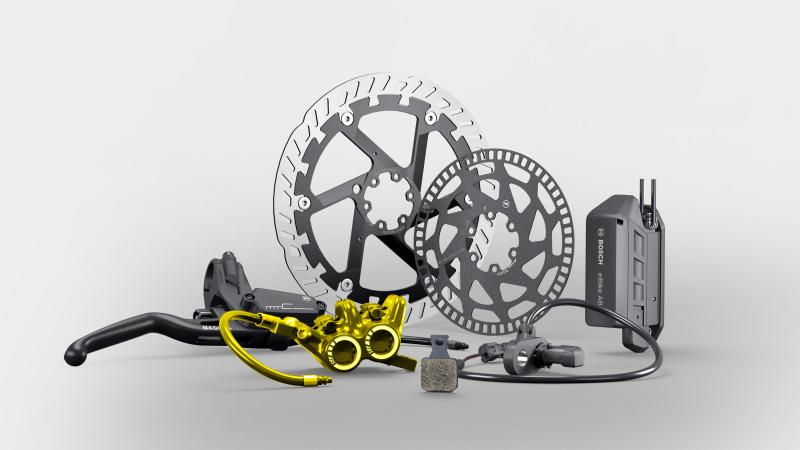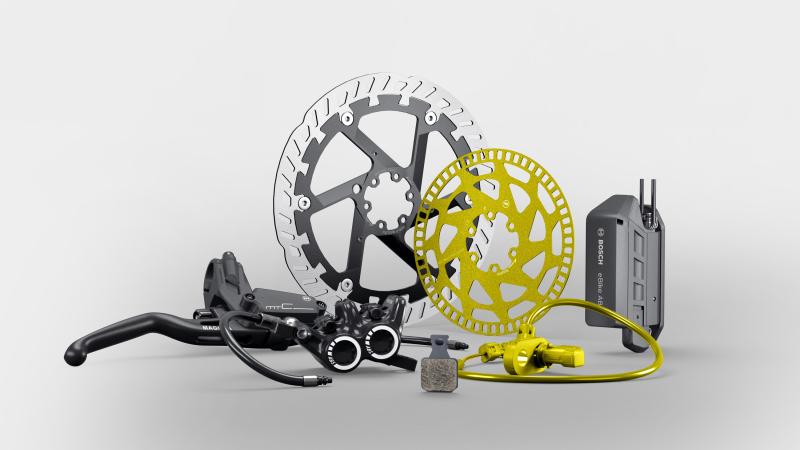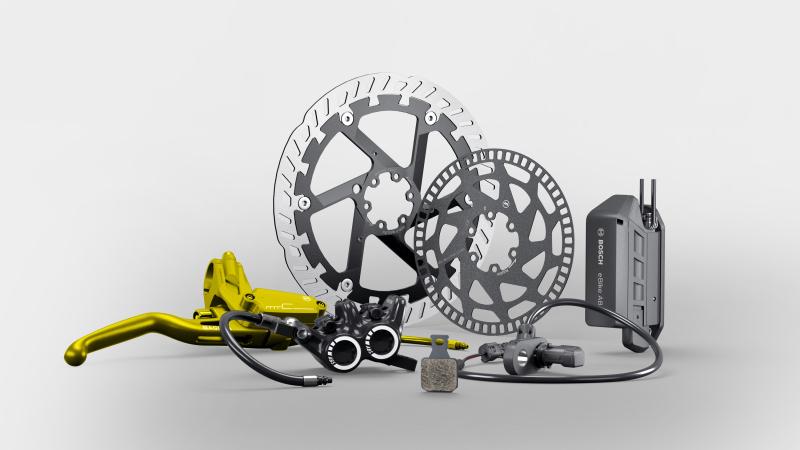 Bosch ABS control unit
This unit is where the information from the ABS wheel speed sensors is processed. It passively regulates the brake pressure to ensure the best possible riding stability and steerability, even during braking. The new generation of the control unit is much smaller and is inconspicuously mounted on the suspension fork.
MAGURA Brake caliper
One-piece, forged two- or four-piston calipers provide braking power and stability. The rigid design creates a solid basis for high deceleration values and effective heat dissipation. Perfect for eBikes, the calipers also ensure long braking travel even with heavy loads.
MAGURA Rotors
MDR-C and MDR-P have been optimized for use on eBikes. They offer a highly constant braking force, even at higher speeds and with heavy loads. Unique stiffening elements increase braking performance, improve heat resistance and prevent vibrations that cause noise.
Bosch ABS wheel speed sensors & sensor discs
ABS wheel speed sensors measure the wheel speed at the sensor disc, detecting critical slippage or locking. The sensors are inconspicuously mounted in the brake caliper adapters or on the fork or frame.
MAGURA Brake masters
MAGURA MT C ABS brake masters are adapted explicitly to match ABS requirements. Their large oil delivery volumes and expansion reservoirs offer the technical basis for the safe ABS control function. The expansion reservoir also extends maintenance intervals by reducing the potential occurrence of air in the system. Ergonomic two- or three-finger lever blades are used, depending on the usage scenario.
MAGURA EasyLink
The EasyLink enables an easy plug-in connection between the brake line and the ABS control unit. During servicing, the brake master or the brake caliper can be quickly separated and dismantled.
Reports on the brake
that keeps you safe.
Image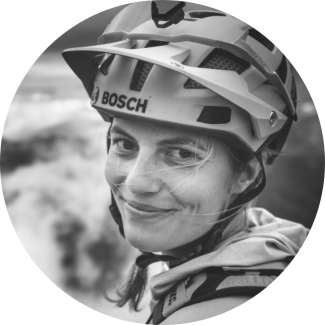 "On gravel with the front brake full on? Doesn't sound like fun, does it? The eBike ABS is the solution! It has succeeded in translating a truly innovative idea and the feeling of being safe on your bike into graphs, numbers and a new technology. More enjoyment and safety – and that's a great combination!"
Greta Weithaler
former MTB XC World Cup rider and e-MTB pro
Image
"Unprecedented stability and safety meet absolute performance. The eBike ABS is a technology that makes biking better for everyone. Even professionals can now brake later and harder – maintaining their speed for longer. More flow for everyone!"
Stefan Schlie
"Mr Uphill Flow" – former world-class athlete in MTB trials
Image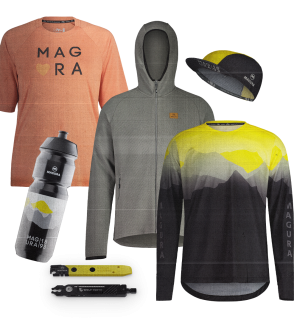 Win a MAGURA fan package now!
Among all participants we are giving away a MAGURA fan package consisting of sweat jacket, bike jersey (women's or men's version of your choice), retro cap and drinking bottle from our MAGURA by Maloja apparel collection as well as an 8-bit multitool from Wolf Tooth & MAGURA. Package value over €350.
Entry deadline: 07.12.2022 – 23:59 CET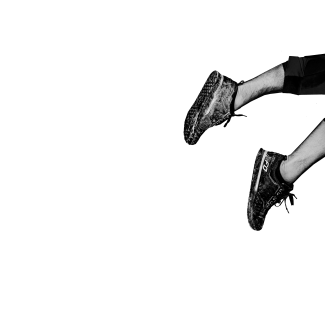 You're good –
but control is better!
Controlled and safe
stopping with the Bosch eBike ABS and
MAGURA ABS components.
Available starting this summer!
The new eBike ABS will be available starting this summer on fully assembled bikes. When you buy a bike, ask your dealer whether it is installed. Retrofitting is not possible.
Do you have any questions?
If so, don't put the brakes on – get in touch with us! We appreciate your interest and will be happy to help you. We also highly recommend that you try it out for yourself. You'll reach your destination safely and quickly – and have a lot more riding enjoyment on your eBike.
Send us an eMail or contact our social media team